INFORMATION AND NEWS
Friday, November 10, 2017
HIP GIRL CLUB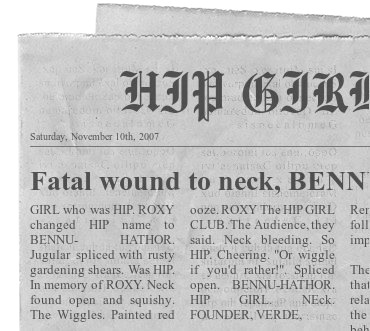 We have fantastic neeeewwwws, GIRLyfriends!! IT'S THE 10 YEAR ANNIVERSARY OF NOT UPDATING THE HIP GIRL CLUB HOMEPAGE!!!
It's a big day for every girl who IS a girl at the HIP GIRL CLUB! If this homepage had been updated any sooner, we wouldn't have this fetid festivity to look forward to!
Even though this seems like it was done (or rather, not done) out of negligence, for years and years, HIP GIRL FOUNDER, VERDE actually had every opportunity to update the information and news section. But instead, her interests were not in updating the homepage, but in NOT updating the homepage. At least every other day, she had looked back on the club with the strongest urge to frequently check the website without touching the source code.
Let's check in with her now:
---
VERDE: "It became an obsession, gulfriend. I had the pleasure of memorizing every letter and open bracket in pufect order. Like... every word was not a word, but a string of letters with spaces in order. From the beginning, 'open bracket sign, h, t, m, l, closed bracket sign.' I could recite each letter and symbol from start to finish--fast a' slow!
"But, what about your obsession with Lucas Friend Nesbit II?"
VERDE: "It was important that I also made sure that I also made time for boyfriend, too. I would look at his image and the flesh on his face and watch the little hairs grow out of the wrinkle on his sweet ass chin while his sideburns curled up and irritated the blood vessels in his eyeballs, but then I found something out...
"What was that, VERDE?
VERDE: "I found out that boyfriend's image could be converted into a webpage text. I also had the time to memorize each individual letter in the text, too. I knew that he was in it. I already updated his obsession page! It looks so good!
"Uhh, we actually have a question for you, Verde. About y'know, the elephant in the room..."
VERDE: "I have no idea what you mean about elephants, girlyfriend. There are only text and images."
"No, no, it's about the article at the top of the page that's unexplained, girlyfriend! I know what it's all about, but don't you think that you'd like to let all of our HIP GIRL MEMBERS and readers know what on HIP earth happened to her? Where is HIP GIRL FOUNDER, ROXY's corpse now?"
VERDE: "There is no corpse, siwwy! She's always been here. She's right here next to me."
"Verde... that image link is broken."
VERDE: "No it isn't, friend! That's a picture of me holding a picture of WOXY while looking at a picture of me! But it's an alive picture, so that's why it can't show it on the homepage. I love my fwiend WOXY! She talks back to me, tells me I'm worthless, and tells me that we need to pay the water bill by today to avoid a $15 late fee!"
"Verde,... Verde.... That picture doesn't exist, and neither does HIP GIRL FOUNDER, ROXY."
ROXY: "Wrrrraaaaa, what do you mean that I don't exist?! You can hear me, so don't insult me, you insolent narrator!"
"Verde, that's just you talking through a character in your head that you're deluded to believe is real."
VERDE: "Narrator, HIP GIRL FOUNDER, WOXY, is very insulted right now! You heard her!"
ROXY: "MMmyaaaahhh, shut up, stupid Verde. I can take care of myself!"
"VERDE: "Dhehehehe! Sorry, Woxy!"
"... I hate to tell you, Verde, but you've finally lost your HIP mind...
VERDE: "No I haven't, GIRLyfriend! You can't lose a HIP mind, because we never had brains to begin with!"
ROXY: "You can say that again!"
"No, you've lost your HIP mind! You're becoming not as HIP as you used to be! You're... not HIP anymore."
VERDE: "...Excuse me...friend?"
"You're NOT. HIP. ANYMORE!"
VERDE: "Now that's just going a stick too far! I don't want to hear from you anymore, GIRLyfriend. I don't even know who you are, anyway! You're not even a HIP GIRL..."
"Yes, I am! I have been here all this time. Don't you recognize me? I'm the Narrator! I have always been here!"
VERDE: "Get out."
"...Verde, you--"
VERDE: "I said... Get the hell out.
---
Well, that was awkward! It's Verde here, my pumice pals, and there will be no more narrator no more, because I don't know who that is, right, WOXY?
WOXY: "Narrator? What kind of stupid stuff are you even talking about? Myeeeh, let's get this update over with, Verde!"
Oh, WOXY, you my best fwiend! Don't wowwy, I won't let anyone possess me like that ever again!
Anyway, in other news, It looks like there are no more HIP GIRL MEMBERS left except for me, WOXY, and Melissa, I guess. She's just my groupie, though! It's so nice to have HIP GIRL fans! Teehee!
My smassy tard boyfriend is diffewent, too, but I like WOCKY better this way! He's freezes into shitty poses with his hands and likes to 'xamine my brain when he cut open my skull and poked it for science! That why I painted that picture of WOXY with all the blood around her! She not weely dead at all, ah yew, WOXYfriend?!
WOXY: "Myeeeeeeahhhhh."
---
Anyway, I'm so bored, so here's a short speech from HIP GIRL FOUNDER, VERDE! And I have some words of wisdom!
"We are HIP. We are never NOT HIP, even if there's nothing left! We are obsessed and we never forgive, so don't fucking cross us girlyfriend!"
That's what VERDE said! Bye bye for now, pimples! We will be back in another 10 years! I bet you will like to see us then!



because you will.
< img src="verdeandroxyare.jpg" title= "text">
❤❤❤❤❤❤❤❤❤❤
VERDE: HIP GIRL CLUB.
HIP GIRL CLUB FOUNDERS
Da HIP GIRL CLUB
VERDE and WOXY
The "HIP GIRLS"
HIP❣❣❣❣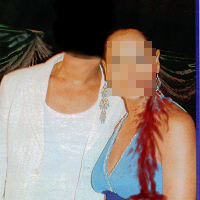 WOXY
(Missed past events? Click here to see what was hip!)
---
UPCOMING EVENTS
---